30 September 2019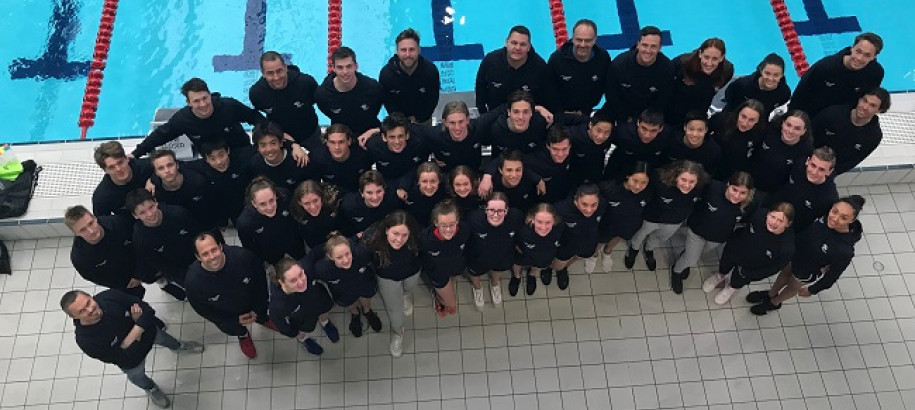 Swimming Victoria is proud to announce the members of the PhysioHealth Victorian State Team who will be representing us at the 2019 State Teams Championships at the Australian Institute of Sport (AIS) in Canberra from 4-6 October.
Ten athletes from each of the four age group categories – Female 13/14, Female 15/16, Male 14/15 and Male 16/17 were selected from their outstanding performances at the recent Victorian Age Short Course Championships. It will be a debut performance at the Championships for more than half of the team, who will be aiming to build on last year's impressive second place finish.
The names of the team members are set out at the end of this article.
The team came together for the first time on Saturday for a State Team training day where they were presented with their Victorian team uniforms, provided by EVO Sportswear. They also received team swimwear from our sponsors Funky Trunks and Funkita. PhysioHealth will be looking after our athletes by providing physiotherapy treatment throughout the competition.
The 2019 PhysioHealth State Team athletes, selected coaches and support staff will head to Canberra on Thursday 3 October for pre-meet training. This will offer a great opportunity for the swimmers to build a strong team bond before heading into the Championships.
Female Head Coach, Tim Mulvihill will be attending his second State Team trip and is looking forward to what the experience will bring. "The State Team represents the beginning of a journey towards senior teams for many of these athletes. For example, in 2010 Mack Horton, Matson Lawson and Josh Beaver were on the Victorian State Team and all went on to become Olympians" said Mulvihill.
This year's event marks the 10th anniversary of the first State Team Competition. Over the past 10 years the competition has offered invaluable experience and has been a steppingstone to international success, for many Victorian athletes, coaches and technical officials.
Also travelling to Canberra are six technical officials, selected by the Swimming Victoria Technical and Officials Development Committee based on their hard work and enthusiasm in developing their skills. The Championships and accompanying workshops will give them fantastic opportunities to fast-track their development and network with other Officials from around the country.
Keep your eye out on our social media channels for updates from the competition. Good luck to all athletes, coaches and officials! Go Vics!
2019 PhysioHealth Victorian State Team
Athletes
| | | |
| --- | --- | --- |
| First | Last | Club |
| Isabella | Boyd | Nunawading |
| Andrea | Chow | Nunawading |
| Alanah | Ilioski | DVE Aquatic |
| Dakoda | Mathers | Ringwood |
| Holly | Neville | Cheltenham |
| Semra | Olowoniyi | DVE Aquatic |
| Sienna | Shepherd | Bayside |
| Isabella | Walkenhorst | Nunawading |
| Lucy | Webster | Nunawading |
| Misha | Wierzbowski | Nunawading |
| Beili | Axtens | Melbourne H20 |
| Issac | Ballenger | Northcote |
| Alex | Basile | DVE Aquatic |
| Evan | Chee | Nunawading |
| Nicholas | Lew | Cheltenham |
| Stone | Ma | North-West Aquatic |
| Brayden | Miles | Flyers Swim Team |
| William | Petric | Nunawading |
| Dominic | Tsui | MLC |
| Yanning | Zhang | Nunawading |
| Victoria | Bushell | Northcote |
| Bethany | Dalgleish | MLC |
| Layla | Day | Bendigo East |
| Abbey | Kearney | Cheltenham |
| Tara | Kinder | DVE Aquatic |
| Olivia | Lefoe | MLC |
| Ella | MacDonagh | Northcote |
| Maggie | Skewes | Wangaratta Amateur |
| Reidel | Smith | Nunawading |
| Chantelle | Underwood | Surrey Park |
| Jayden | Carr | Northcote |
| Thomas | Dale | Bayside |
| Emil | Gardner | Northcote |
| Lachlan | Jackett-Simpson | Firbank Aquastars |
| Alex | Kirchner | Nunawading |
| Jackson | Lazzar | Flyers Swim Team |
| Noah | Millard | MLC |
| Calvin | Reed | Nunawading |
| Edward | Speller | Melbourne Vicentre |
| Dylan | Van Breen | TigerSharks |
Support Staff
| | | | |
| --- | --- | --- | --- |
| First | Last | Club | Position |
| Rohan | Taylor | SV | State Head Coach |
| Ash | Delaney | Northcote | Male Head Coach |
| Tim | Mulvihill | Bayside | Female Head Coach |
| Sarah | Scott | Nunawading | Coach – Female 13/14 |
| Mark | Synnot | Wangaratta Amateur | Coach – Female 15/16 |
| Cam | Nation | North West Aquatic | Coach – Male 14/15 |
| Dean | Bryant | Nunawading | Coach – Male 16/17 |
| Justin | Bell | Surrey Park | Coach – Female Assistant |
| Jayden | Brian | MLC | Coach – Male Assistant |
| Josh | Busch | SV | Manager |
| Jen | Blackman | SV | Manager |
| Ashlea | Otto | PhysioHealth | Physio |

Technical Officials 
| | | |
| --- | --- | --- |
| First | Last | Club |
| Adriene | Moloney | MLC |
| Gavin | Parkinson | Ballarat GCO |
| Randall | Jones | Shepparton |
| Linda | Anthonsen | Yarra Plenty |
| Hayley | Hogan | Shepparton |
| Peter | Tindale | Kyabram |