16 November 2021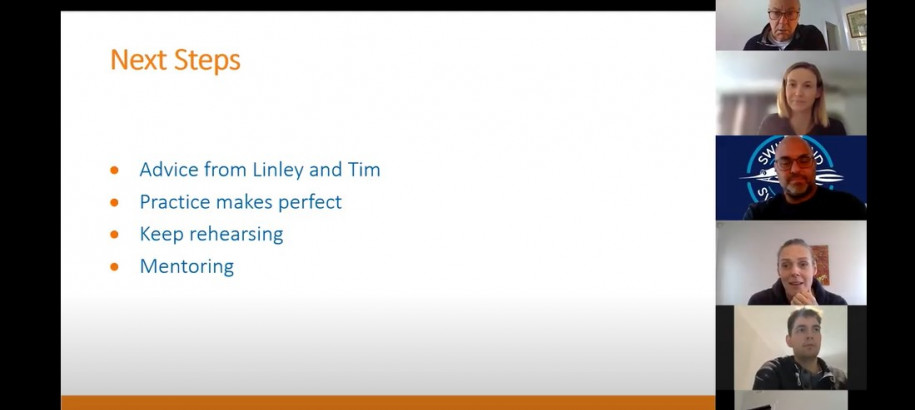 A group of 10 budding commentators participated in Swimming Victoria's inaugural Commentator Training on 8-9 October 2021.
A first of its kind for swimming, the training was led by industry and swimming experts including veteran Australian sports broadcaster and journalist, Tim Lane and Olympian and swimming commentator, Linley Frame. Swimming Victoria's Performance Pathways Manager, Gary Barclay also joined the presentation to reiterate the importance of using the commentary platform to sell the sport's programs and competition pathways.
Over two sessions the participants were given an introduction to the basics of commentary, broadcast positions and specialist areas. They discussed the importance of storytelling and the commentary team working together, with Tim and Linley drawing on their own experiences to provide insight.
The participants were encouraged to dive straight in and record themselves calling a race, listen back to their recording and evaluate themselves. The two day format allowed them to practice and reflect overnight and bring their questions to the next session.
There was also an opportunity to listen to and discuss example commentary pieces, including some famous sporting moments across various sports such as Cathy Freeman's 400m at the Sydney Olympics and the last 3 minutes in Michael Jordan's final game for the Chicago Bulls.
We hope the training has given these amateur commentators the tools the tools they need to pursue further commentary opportunities. Here's what some of them had to say…
"Loved the opportunity and the encouragement of the presenters and staff was excellent."
"Fantastic wealth of experience from many different aspects, shared learning experiences and recommended practices."
"Tim tells great stories learned over many years. Linley is a true professional."
"Thanks to Swimming Victoria for creating this wonderful initiative. To all the presenters for giving up their weekend time."
With an exciting summer of swimming ahead of us, we can't wait to see this group of enthusiastic commentators put their new skills to
use!
Swimming Victoria would like to thank Tim, Linley and Gary for presenting the course and Swimming Australia for their support of this initiative.
Interested in taking part in our next round of Commentator Training? Email your expression of interest to clare.burton@vic.swimming.org.au.