16 September 2019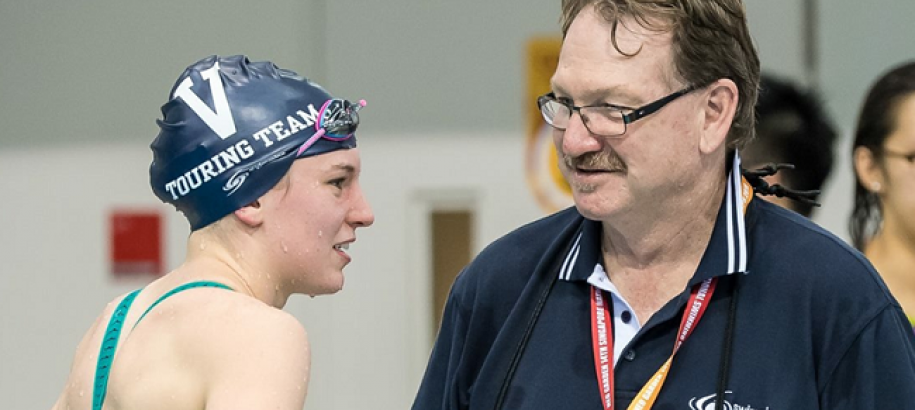 Swimming Victoria is fortunate to have a rich history of talented athletes, coaches, officials and administrators. At the Annual General Meeting held on Saturday 14 September 2019, we were proud to award 4 of these individuals Life Membership of Swimming Victoria.
Swimming Victoria Life Membership recognises and honours the efforts of those in the Victorian swimming community who show exceptional commitment to and advocacy for the sport.
Congratulations to our newest Life Members:
Wayne Lawes
Wayne's contribution to Swimming Victoria and the sport of swimming over the past 41 years has been outstanding. In 1978 he formed the Waterlions Swimming Club where he was Head Coach until 2016 and is also a Life Member.
Currently Victoria's Coach Development Director, Wayne has been involved in Victorian development squads since the mid-1980s and has been Head Coach of various Victorian teams over the years. He has presented at more than 50 district development days across many districts throughout his career and has been instrumental in the education of coaches at all levels in Victoria.
Wayne is a key figure in the development of swimming in Victoria. He has dedicated himself to the sport of swimming and has influenced the development of thousands of swimmers both in and out of the pool.
Leigh Nugent
Leigh's coaching career started in 1976 in Gippsland, where he spent 4 years working with hundreds of swimmers, making a significant impact on country swimming in Victoria.
He went on to become Nunawading Swimming Club's Head Coach from 1980 to 2000 where he coached numerous elite swimmers to high performance
achievements in international swimming. During this time Leigh was also heavily involved Swimming Victoria activities as Head Coach of Victorian Target Squads, Development Squads and of Victorian teams.
Leigh has always shown a passion to improve swimming in Victoria and has helped hundreds of coaches and thousands of Victorian athletes to improve and perform at their highest level.
Sarah Lynch (Katsoulis)
Sarah has been one of Victoria's most consistent performers at an international level, representing Australia on 11 occasions between 2002 and 2012. She competed at 2 Commonwealth Games, 2 World Championships, 5 World Short Course Championships and 2 Pan Pacific Championships.
Sarah continues to give back to the sport of swimming as an employee at Nunawading Swimming Club and in volunteer roles on the Board of Swimming Victoria (2015) and as a Victorian Selector (2016).
Walter (Wally) Stables
Wally has been a driving force behind competitive swimming in the Central District for more than 47 years.
Wally started his career in swimming with the now defunct Eaglehawk Swimming Club holding positions of Vice President, Secretary and Coach. After the amalgamation of Eaglehawk and Bendigo Swimming Clubs, Wally continued his coaching role, which he does to this day. Wally is a Life Member of both the club and Central District.
At district level he has been District Referee and Proficiency Officer from 1984 to 2008, as well as President for 21 years, and Vice President at various times.
Wally has mentored and encouraged the district's officials to broaden their knowledge and to help outside the district. He is a previous recipient of the Herb Jeffrey Award, a Swimming Victoria Meritorious Service Award and a Rotary Certificate in recognition of his dedication to swimming.
Swimming Victoria thanks Wayne, Leigh, Sarah and Wally for their contribution and dedication to swimming in Victoria.