10 October 2018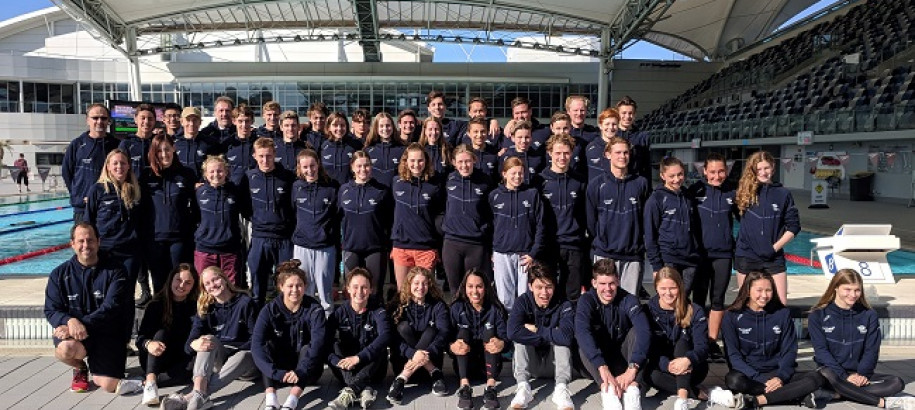 What a team! Our PhysioHealth Victorian State Team delivered our best result since 2012 at the 2018 State Teams Championships, from 3-5 October at the AIS in Canberra. We saw some great swimming, new records set, unforgettable memories made and a strong team spirit which secured our second-place finish.
With 1668.67 points, we finished behind Queensland (1992.50) and for the second time in the Championships nine-year history, ahead of New South Wales (1504.50).
MLC Aquatic's Noah Millard (coached by Nick Veliades) provided one of the highlights of the meet, breaking the Championship record in the Boys 14/15 years 200m Freestyle event with his time 1:49.91. The record was previously held by Olympic champion, Kyle Chalmers, who was the first person to congratulate Noah at the finish line.  We'll all be watching when Noah and Kyle go up against each other at the Hancock Prospecting Australian Short Course Championships in just a couple of weeks!
Victoria dominated the Girl's 15/16 years events, winning the Champion Female Team award in this age group. Olivia Lefoe (MLC Aquatic, coached by Nick Veliades) was a standout performer with PBs in 5 of her events. Our girls also took out the 4x100m Medley Relay, finishing ahead of NSW and Queensland with their time of 4:03.17.
It was an exciting finish in the Boy's 16/17 years 50m Freestyle, with Vicentre's Oliver Nash (coached by Kenrick Monk) tying for first place with Kalani Ireland from Western Australia. The pair stopped the clock (and our hearts!) at 22.58. Nash went on to win the 100m Freestyle and also clocked 4 PBs across the meet.
Multi class events were a new inclusion to the program this year and our athletes stepped up to the challenge. Ruby Storm (Traralgon, coached by Dean Gooch) was impressive with PBs in the Girl's 100m MC Butterfly (1:09.48) and 100m MC Backstroke (1:13.63) events. Col Pearse (Melbourne H2O, coached by Matt King) gave us a memorable moment in the Boy's 100m MC Breaststroke. Not only was Col swimming breaststroke for the first time, he was also the only swimmer in the event!
Our team captains, Jack Carr (Northcote, coached by Ash Delaney), Kayla Costa (Nunawading, coached by Scott Talbot), Oliver Nash and Hannah Schmidt (Bayside, coached by Tim Mulvihill) led by example both in and out of the pool.  They supported their teammates, coordinated team activities and cheers and thanked the technical officials, coaches and staff on behalf of the team.
Female Head Coach, Tim Mulvihill was extremely proud of the team's performance. "As a coaching staff we asked the team for "competitive greatness" – the true love of the hard battle, to be at their best when their best was required. There were countless examples of competitive greatness from Team Vic over the three days of competition, but the most noticeable and pleasing aspect was the outstanding leadership of our senior swimmers and genuine love each swimmer had for their teammates" he said.
"It was the leadership and palpable team culture that enabled Team Vic to perform at its best on the fourth and final session when the other states faltered. The 2018 State Teams Championships was a truly amazing effort and experience for the swimmers, coaches and managers."
As always, the meet would not have been possible without the outstanding work of the technical officials. Victoria was well represented by Harold Gusdorf, Len Haney, Haley Hogan, Leigh Hogan, Jacqueline Madden and Adriene Maloney.
The officials also participated in Technical Official Workshops alongside the meet, which provided much needed exposure and experience for up and coming technical officials from all states. Jacqueline Madden said it has been fantastic to see the results both in and beside the pool. "Working together has forged friendships and assisted in gaining a better knowledge of what national officiating entails" she said.   
Well done to all athletes, coaches, technical officials and support staff for their efforts and achievements at the 2018 State Teams Championships. Also, a big thank you to PhysioHealth for supporting the team, in particular, team Physio, Alicia, and to EVO Sportswear for decking out the team in their uniforms. 
For full results click here.