20 May 2020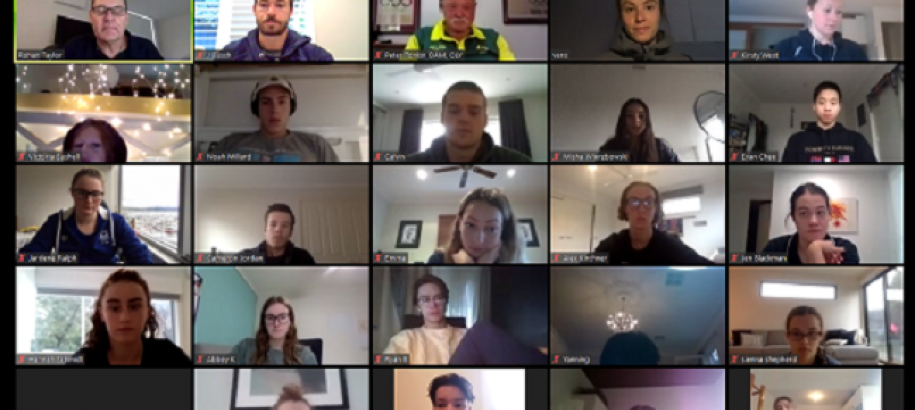 Our athletes need us more than ever. And for the 200 athletes in our Performance Pathways Program staying connected, engaged and motivated during this unprecedented time is crucial.
A squad is a group of people trained to work together as a unit. This year, the squads in our Performance Pathways Program have been faced with a challenge – how do we work together when we can't be together?
Due the current COVID-19 restrictions, the Program is being delivered online for the foreseeable future, allowing athletes and coaches to participate from home. Athletes have been invited to join the Performance Pathways Workplace Page, a platform (like Facebook) which we are using to connect athletes within the Program.
The Performance Pathways Program is made up of 6 squads: National and State Flippers, Performance, Multi-Class, Country, Open Water and Junior Talent Squads. Athletes were selected based on their performances over the past 12 months. Squad lists can be found here.
Over the next 6 weeks, these athletes will have the opportunity to participate in online sessions with industry experts on topics such as dryland training, strength and conditioning, nutrition and wellbeing. We've thought outside the box and engaged speakers from interstate and overseas to provide unique and meaningful experiences for the athletes.
The Flippers Squads (both National & State) are undertaking a 6 week online "Get out of your comfort zone challenge" with Dr Veronique Richards, Mental Performance Consultant for Cirque du Soleil. In the first two weeks of the program, we've had over 60 athletes join us for each session on Zoom and they are really embracing the weekly challenges.
Swimming Victoria's Performance Pathways Manager, Kirsty West is thrilled to be able to continue to provide valuable opportunities for our athletes during this time. "It's been fantastic for our athletes to connect and feel part of the broader swimming community. A key success of the Program in recent years has been the camaraderie between the swimmers and coaches, so it was really important for us to ensure we don't lose that connection. If anything, we hope it grows stronger through the common understanding that we're all in this together." said West.
"This experience has highlighted the importance of adaptability and creativity. Our Flippers athletes have been learning how these skills can enhance performance and that stepping out of your comfort doesn't have to be scary!"
We can't wait to see these athletes put these skills to use when they are back in the water!
For more information about our Performance Pathways Program click here.