04 October 2023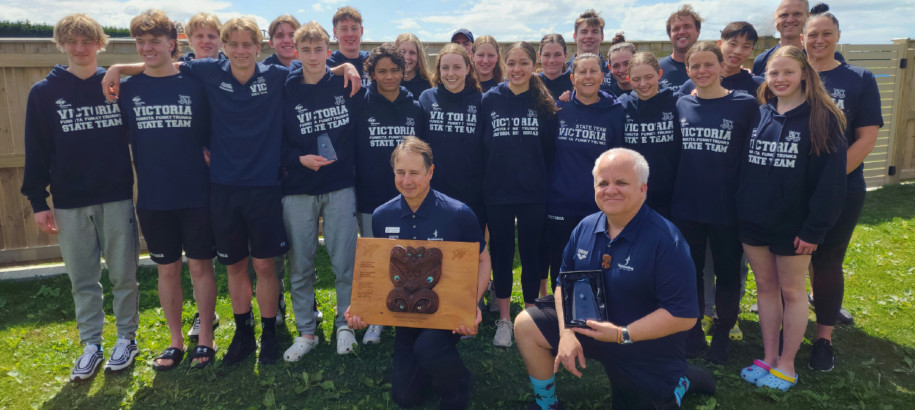 The Victorian Touring Team have returned victorious from the 2023 New Zealand Tri Series at the Hawkes Bay Regional Aquatic Centre. The Vics finished with 3780 points, ahead of New Zealand Team Black (3390), New Zealand Team White (2484) and Western Australia (2312).
The Victorian team was made up of 16 athletes, who were supported by coaches Kelly Stubbins (Cheltenham), Jayden Brian (MLC Aquatic), Kenrick Monk (MSAC) and Aaron Tenabel (Geelong) and Team Managers Nic Baker and Jenny Lawton from Swimming Victoria. They were joined by technical officials Harold Gusdorf and Craig Martin who represented Victoria.
The NZ teams welcomed everyone with a rendition of the iconic haka. Not to be outdone, the Vic and WA teams performed their team chants, creating an electric atmosphere on pool deck.
The swimmers then took to the pool for three huge days of racing, with teams competing in a series of 5 race meets (matches), with bonus points awarded to swimmers for executing racing skills under pressure.
Not only did Victoria bring home the Overall Top Team Award, three of our swimmers received awards for achieving the highest scores in the following categories:
Overall Para Top Point Score – Hamish Keenan (Swimland)
Overall Female Top Point Score – Alannah Torrance (MLC Aquatic)
Overall Male Top Point Score – Evan Chee (Nunawading) 
We also saw 3 Victorian Age Records broken with Lily Koch (MLC Aquatic) setting a new record in the Girls 14 Years 100m Individual Medley and Toby McOmish (MLC Aquatic) breaking the Men's 17-18 Years 50m Freestyle Record twice.
Alongside the racing, the swimmers had plenty of opportunities to engage with athletes from other teams in activities such as yoga, and media/personal branding skills sessions. The coaches used the week to develop their own learning with presentations and 'roundtable' discussions as well as using film footage of racing to analyse the skills of the swimmers in the pool.
This opportunity provided invaluable travel and race experience for athletes and coaches as we support their continued development towards Australian representation.
Congratulations to all members of our Victorian Touring Team and a huge thank you to Swimming NZ for having us!
For full results click here.