19 October 2023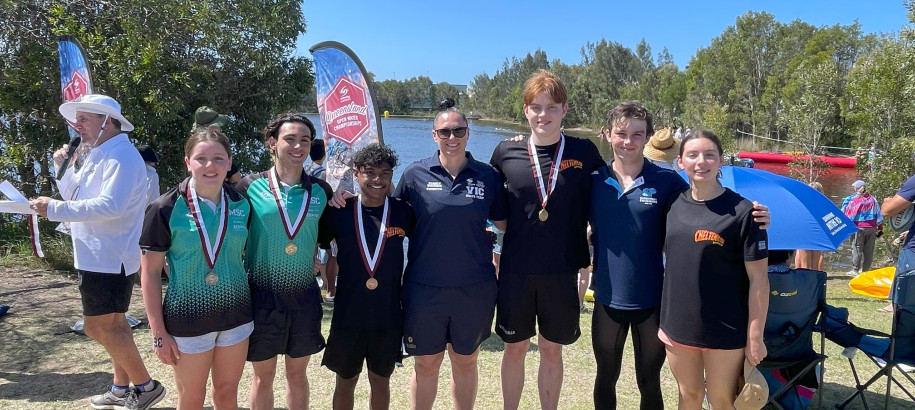 The water was a balmy 24.4 degrees at the Oz Ski Resort, Coolum for the 2023 Queensland Open Water Championships on Saturday 14 October.
20 Victorian swimmers, from 9 clubs, headed north to the Sunshine Coast. Given the bay conditions in Victoria are not currently ideal for open water swimming, the Vics really punched above their weight in terms of podium finishes across the board.
Well done to all swimmers on your fantastic results. We look forward to you and your teammates taking on the 2023 Victorian Open Water Championships on 9 December in Geelong.
Ballarat Gold, coached by Mark Stahl
Tom Urquhart 15 Year 7.5km - 3rd
Cheltenham ASC, coached by Kelly Stubbins
Madison Brand 14 Year 5km - 7th
Emma Harrison 17 Year 7.5km - 1st
Tommy Lane 18 Year 7.5km - 1st
Tharusha Perera 16 Year7.5km - 3rd
Firbank Aquastars, coached by Gus Barnes
Katrina Ward 19 & Over 5km - 2nd
Melbourne SC, coached by Ian Pope
Catherine Boyle 16 Year 7.5km - 5th  
Logan Brandi 16 Year 7.5km - 1st
Sophie Jacka 15 Year 7.5km - 2nd  
Melton SC, coached by Rob Neilson
Mitchell Wills 19 & Over 5km - 3rd
MLC Aquatic, coached by Jayden Brian
Mackenzie Hunter 17 Year 10km - 1st  
Nunawading, coached by Michal Skrodzki
Dakota Mathers 18 Year 5km - 2nd  
Surrey Park, coached by Justin Bell
Maisy Graves 12 Year 2.5km - 5th
Georgia Hawkins 19 & Over 10km - 10th  
Conor Hayes 17 Year 10km 5th
Mia Horskins 15 Year 5km 8th
Flynn Phillips 19 & Over 10km - 12th  
Jesse Phillips 18 Year 10km - 8th
Neve Turton 13 Year 2.5km - 5th  
Western Melbourne Propulsion, coached by Seb Bettiol 
Robbe Dilissen 19 & Over 10km - 11th  
Don't miss the return of the Victorian Open Water Championships! Entry is NOW OPEN in Swim Central for SV Members and non-members can enter here.