24 October 2020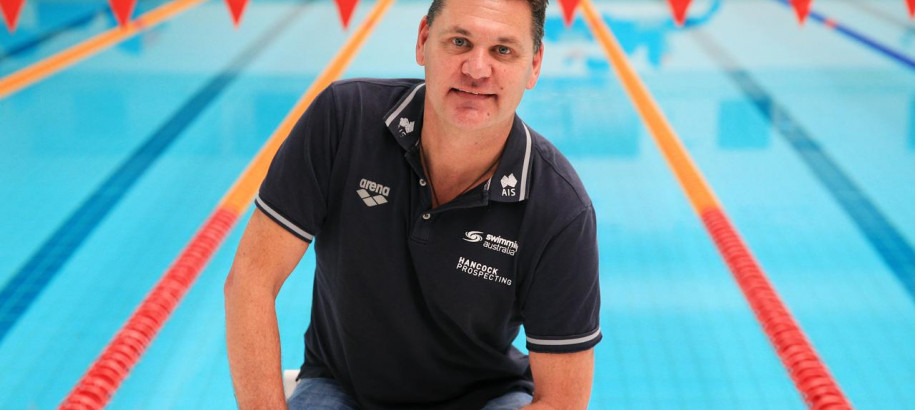 Swimming Victoria Life Membership recognises and honours the efforts of those in the Victorian swimming community who show exceptional commitment to and advocacy for the sport.
At the Annual General Meeting held on Saturday 24 October 2020, we were proud to award 5 such individuals Life Membership of Swimming Victoria.
Congratulations to our newest Life Members:
Gary Barclay
Gary's contribution to the sport of swimming in Victoria is unparalleled. His contribution as an athlete, teacher, coach, administrator, club manager, and director has advanced the reputation and standing of Victorian swimmers and clubs at the highest level.
Gary began his lifelong journey in swimming at the age of 8 years old at what is now known as Nunawading Swimming Club and went on to attend the Australian Institute of Sport as an athlete. Throughout his swimming career he represented Victoria on State and National Swimming Teams many times.
In 1995, Gary was instrumental in creating the Carey Aquatic Swimming Club at the Bulleen
Sports Complex, now known as CA Tritons. Carey Aquatic quickly grew into an Australian powerhouse club, developing and attracting many national swimmers.
He went on to be appointed Business Development Manager at Swimming Victoria and then National Events Manager at Swimming Australia, before becoming General Manager at Nunawading in 2003 and then, due to the club's significant growth, progressed to CEO.
Thanks to Gary's tireless work, the club would become one of only 8 Australian Swimming Centre of Excellence clubs in the country regularly featuring in the top echelons of National Age and Open Championships. Many Commonwealth, Olympic and World Champion swimmers are the product of the High Performance program at Nunawading.
Joffre Charles
Joffre has contributed to Swimming Victoria in a variety of roles for more than 25 years.
He joined Kew Swimming Club in the late 1980's serving as a committee member for many years and then as club president. He went on to become the Metro East District President, District Referee and was the Districts delegate to the Swimming Victoria Council for more than 10 years.
In 1993 Joffre started volunteering as a Technical Official and is now currently qualified as a Level 2 Referee and as an Assessor & Presenter. During any swimming season you will undoubtedly see Joffre officiating on pool deck at district, club and school meets most weekends around Melbourne. For many years Joffre has also officiated at many Swimming Victoria Championships as the Technical Director or as Referee in Charge.
Joffre was Swimming Victoria's Chief Referee from 2014-2016 and has been a dedicated mentor to many officials. He is currently President of the Officials Swimming Club where he is a strong advocate for officials and their recruitment and training. He was a member of the Swimming Victoria Technical Officials Development Committee from 2007 – 2016 and has recently been reappointed to the committee. 
In 2017 he was awarded the Swimming Victoria Meritorious Service Award and Joffre's continued dedication to the sport of swimming in Victoria is held is high esteem by his colleagues.
Heather O'Connor
As an administrator, technical official, mentor and committee member, Heather is a quiet achiever yet her contribution in numerous areas of the sportis immeasurable. She is always there to offer advice and support.
Heather first joined Surrey Park Swimming Club in 1994 when her daughter progressed from learn to swim to a competitive squad and has been involved ever since. She has been a member of the Surrey Park executive committee for several years, including two terms as President spanning 7 years. She is still responsible for the club administration and competitions at Surrey Park, despite no longer having a formal role on the executive committee. She received Life Membership of Surrey Park Swimming Club in 2009.
Heather was a member of the Metro East executive committee from 2007-2016, taking on a number of roles for the District during this time, including Vice President, Competitions Officer and District Referee. She was awarded Life Membership of Metro East in 2009.
Heather has been a Swimming Victoria Director since 2015. Prior to this, she was an active member of the Swimming Victoria Technical Committee and Competitions Committee from 2009-2015. She was also Swimming Victoria Championship Officer and Proficiency Registrar during this time.
She remains on the Technical Officials Development Committee as Board liaison.
Throughout her involvement in swimming, Heather has received a number of awards including an SV Service Award in 2010, SV Meritorious Service Award in 2015, SV Administrator of the Year in 2003, Bill Slade Trophy for Victorian Technical Official of the Year in 2016, SV Technical Official 10 & 20 Year Service Pins and a SAL Technical Officials 10 Year Service Pin.
Ian Pope
For more than 30 years Ian has dedicated his life to swimming and elite coaching. With many accolades achieved at national and international levels, he is one of the most successful coaches in Australian swimming history.
Ian began his coaching career at Surrey Park in 1983, developing a swimming program from learn to swim to National level squads. In 2002, Ian was appointed Head Coach of Melbourne Vicentre, where he continued to develop and train swimmers to the highest levels for the next 16 years. Ian returned to Surrey Park in 2018 as the Head Coach of their elite program as well as a mentor to the coaching group.
Whilst Ian has coached some of Australia's best swimmers such as Michael Klim, Matt Welsh, Grant Hackett, Giaan Rooney, Brett Hawke and Patrick Murphy to the highest levels of our sport, his passion for swimming shows in his commitment to developing not only our elite athletes but also our junior swimmers and coaches, whether on pool deck or at clinics and development days.
Ian's knowledge and experience has awarded him roles on the Australian National Swim Team, most notably as a coach at the 2000 Sydney Olympics and the 2008 Beijing Olympics and as a coach at 6 World Championships and many Commonwealth Games and Pan Pacific Championships.  His coaching skills have helped his swimmers to an impressive medal tally, including 11 Olympic medals, 46 World Championship medals and 17 Commonwealth Games medals.
Ian has won a number of awards throughout his coaching career including Australian Coach of the Year in 2003, ASCTA Coach of the Year in 2004 and the VicSport Coach of the Year in 2006 and 2010. He has also been awarded the asctaVIC Victorian Coach of the Year 8 times and Victorian Open, Age and Open Water Coach of the Year on numerous occasions.
Ian is a Life Member of Melbourne Vicentre, Surrey Park Swimming Club and ASCTA. 
Rohan Taylor
Rohan's passion for swimming has taken him around the world firstly as a swimmer and then as a coach, which he has been committed to for over 25 years. As Carey Aquatic Head Coach from 2000-2006, CA Tritons Head Coach from 2006-2008 and Nunawading High Performance Coach 2008-2016 Rohan developed and coached many of Victoria's elite swimmers, including Olympic and Commonwealth Games medallists Liesel Jones, Belinda Hocking and Josh Beaver.
As a member of the coaching team on the Australian National Swim Team for over 20 years, his coaching performance boasts a long list of achievements including 3 individual world records, 1 Olympic record, 6 Olympic medals, 30 World Championship medals and 14 Commonwealth Games medals, just to name a few.
Rohan has also been a member of the Swimming Australia High Performance Committee and served on the Swimming Victoria High Performance Committee from 2010 to 2016, Sport Development Committee in 2013 and continues to hold a role on the asctaVIC Committee, which he has done so since 2017.
He has been instrumental in shaping the landscape of high performance swimming in Victoria over the past 15 years and in particular the evolution of the Swimming Victoria Development Program. In 2008, Rohan was part of the team assigned to review the Development Program, and from that review was appointed the co-head coach of the Junior Talent Squad 2008 through to 2014.
In 2017 Rohan was appointed Swimming Australia's Technical Director of Victoria & Tasmania and has been instrumental as a mentor in the ongoing development of our high performance swimmers, and coaches, throughout Victoria.
Rohan's passion and dedication to the sport of swimming has seen him achieve many accolades, the most recent being appointed the Head Coach of the Australian Dolphins in October this year.
Swimming Victoria thanks Gary, Joffre, Heather, Ian and Rohan for their contribution and dedication to swimming in Victoria.