13 April 2019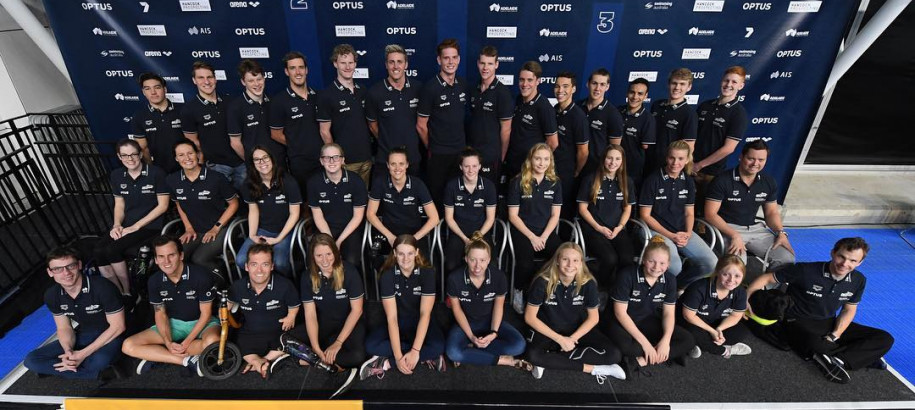 Victorians Ruby Storm (Traralgon) and Col Pearse (Melbourne H20) are among an exciting group of Dolphins who will make their international debuts at the 2019 World Para Swimming Championships.
Swimming Australia has announced thirty-four athletes have qualified for the team following the conclusion of the 2019 Hancock Prospecting Australian Swimming Championships, including newcomers Storm, Pearse, Ricky Betar (Auburn), Jake Michel (Carina Leagues), Ella Jones (Springwood), Jack Ireland (University Queensland Swim Club), Madeleine McTernan (St Hilda's), Jade Lucy (SLC Aquadot) and William Martin (Aqua Rosa).
Fellow Victorians Jamie-Lee Getson (Melbourne Torpedoes) and Ahmed Kelly (Melbourne Vicentre) were also named on the team. In total 27 clubs will be represented across six states, with 17 athletes from Queensland, 10 from New South Wales, four from Victoria, two from Western Australia and one from South Australia.
One of those athletes from New South Wales is Auburn's rising star Betar (S14). Recently announced as a recipient of the inaugural Kurt Fearnley Scholarship, Betar took home four medals at the national champs and broke an INAS world record for the 50m freestyle in the process.
The 15-year-old claimed silver in the 200m Freestyle Multi-Class and 100m Breaststroke Multi-Class, and bronze in the 200m Individual Medley and 50m Freestyle Multi-Class. However, it was his time of one minute 2.03 in the 100m backstroke which earned him a cap on the team.

Dolphin leaders and experienced Paralympians Ellie Cole, Monique Murphy, Blake Cochrane and Matt Levy have also made the team, as well as fan favourites Lakeisha 'Lucky' Patterson, Brenden Hall, Timothy 'Disko' Disken, Grant 'Scooter' Patterson and Ahmed Kelly.

Swimming Australia's Para Head Coach Brendan Burkett said he was pleased the team had now been assembled so the next phase of training could begin.

"I'd like to congratulate all of the athletes who qualified for a position on the team. It's a terrific achievement they should be very proud of and I know they will represent Australia with great pride," Burkett said.

"While there are plenty of experienced faces in the squad, it's wonderful to see our emerging swimmers coming through ranks and making their first Australian team as a Dolphin – their development speaks volumes about their passion, the programs and pathways we have in place, as well as the dedication of our coaches.

"We should have some clarity very soon around where and when the World Para Swimming Championships will be held, however until those details are confirmed, our athletes will continue to train hard and prepare themselves for international competition."

The coaches travelling with the team to the World Para Swimming Championships include: Head Coach Brendan Burkett, Mentor Coach Greg Towle, Clinton Camilleri (Auburn), Harley Connolly (Burpengary), Yuriy Vdovychenko (AIS), John Bell (Monte), Rob Van Der Zant (Yeronga Park) and Nathan Doyle (USC Spartans).
2019 Australian World Para Swimming Team (New Dolphins in bold)
Liam Schluter, Kawana Waters, QLD
Jake Michel, Carina Leagues, QLD
Rowan Crothers, Yeronga Park, QLD
Lakeisha Patterson, Lawnton, QLD
Monique Murphy, Lawnton, QLD
Brenden Hall, Lawnton, QLD
Blake Cochrane, USC Spartans, QLD
Katja Dedekind, USC Spartans, QLD
Braedan Jason, USC Spartans QLD
Rachael Watson, Chandler, QLD
Tim Disken, St Hilda's, QLD
Madeleine McTernan, St Hilda's, QLD
Grant Patterson, Central Cairns, QLD
Rick Pendleton, Genesis Aquatic, QLD
Keira Stephens, Fraser Coast, QLD
William Martin, Aqua Rosa, QLD
Jack Ireland, University of Queensland Swim Club, QLD
Timothy Hodge, Auburn, NSW
Ricky Betar, Auburn, NSW
Jenna Jones, Auburn, NSW
Ellie Cole, Knox Pymble, NSW
Matt Levy, North Sydney, NSW
Taylor Corry, Nelson Bay, NSW
Tiffany Thomas Kane, Monte, NSW
Jasmine Greenwood, Bay & Basin, NSW
Jade Lucy, SLC Aquadot, NSW
Ella Jones, Springwood, NSW
Jesse Aungles, Marion, SA
Col Pearse, Melbourne H20, VIC
Ruby Storm, Traralgon, VIC
Jamie-Lee Getson, Melbourne Torpedoes, VIC
Ahmed Kelly, Melbourne Vicentre, VIC
Jeremy McClure, South Shore, WA
Ben Popham, Arena, WA