02 September 2020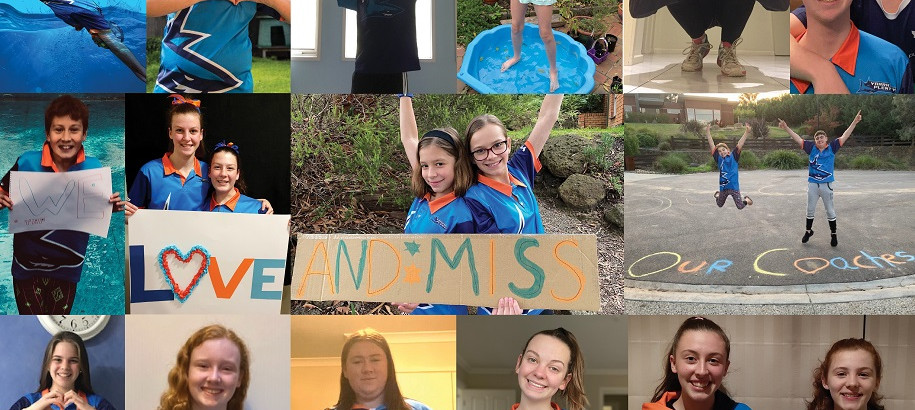 Yarra Plenty Swimming Club (YAP) is proving that they don't need a pool to accomplish goals and stay united during lockdown.
The second half of the 2019/2020 season was far from normal for all Victorian clubs. Just when swimmers at YAP were focused on training for All Junior Finals, school and state level competitions, everything came to a sudden halt in March, leaving many of them frustrated, knowing they wouldn't get to see the results of their hard work. Head coach Andelys (Andy) Warren felt the disappointment too but knew that the focus needed to shift to "what we CAN do".
This prompted the development of the 'YAP Out of Water Challenge', a weekly challenge in which swimmers competed within their squad groups to gain points throughout the week, with the individual achieving the highest point score for each group being announced at the end of each week.
Points were awarded for completing tasks such as stretching programs, meditation/mindfulness, cooking meals, having a chat with a teammate, cardio activity, setting goals and being creative. These tasks allowed swimmers to explore and develop complimentary skills relevant to their swimming during their time out of the water.
A highlight for many were 'Family Friendly Fridays' in which Andy created and adapted games into fun exercise focused activities for all family members to participate in.
Being a registered and experienced osteopath, Andy was also able to run dryland exercise classes via Zoom for the squad groups, utilising her knowledge of exercise progression and injury prevention. The state and national development squads participated in 3 strength and 2 flexibility/mobility classes a week, and junior squads received separate sessions each week.
When restrictions eased allowing pool swimming to return in a modified form, the club worked hard to develop and enforce policies and procedures to keep everyone safe. The swimmers were thrilled to finally return to the sport they loved. Although some felt they had lost touch with the water, they felt strong from the increased dryland work and a greater appreciation towards swimming.
Training during the month back in the water was focused around improving stroke technique, building aerobic fitness and getting the body fired up with some short sharp sprint work.
The club ran a swim-a-thon for their swimmers, not only to test their aerobic capacity, but also to raise money for the Cystic Fibrosis Community Care Group. But only three days after this event, the Victorian government announced it would be reintroducing to stage 3 restrictions.
Although disheartening, Andy viewed that as an opportunity to provide an even better out of water program for the swimmers. She wanted to see more swimmers stay active during the second lockdown and to focus on maintaining cardio fitness. Embracing the swimmer's love for teamwork, the 'Rona Escape' program was created.
"I thought a fun way to get the swimmers consistently active each week was to create a virtual travel challenge in which the kilometres completed through activities equate to distance travelled on a map. The original 6 week plan was to make it to the VIC/NSW border, however with the extension of restrictions, we have now extended our challenge to reach the Sunshine Coast in Queensland as that's the location of where our September club camp was supposed to be this year." said Andy.
"By making it a team challenge we've seen a lift in participation across all squads. Having team leaders has also got our senior level swimmers highly involved and enjoying the program. They have been responsible for choosing which Victorian towns have been their team's weekly checkpoints, breaking the virtual travel into achievable targets."
"We have weekly team meetings on Zoom and it's been really rewarding seeing the teams bond and work together to complete the virtual quest. Being competitive athletes there is some healthy competition going on between teams which is providing extra motivation for everyone involved." said Andy
And it's not just the swimmers that are benefiting from the program. Parents at YAP are being encouraged to stay active by accompanying their children when exercising. A free weekly pilates session is also being offered to further support parents during the lockdown.
With the combination of the 'Rona Escape' challenge, Zoom dryland sessions and pilates for parents, everyone at YAP is keeping strong, fit, healthy and connected and they are having a great time doing it!