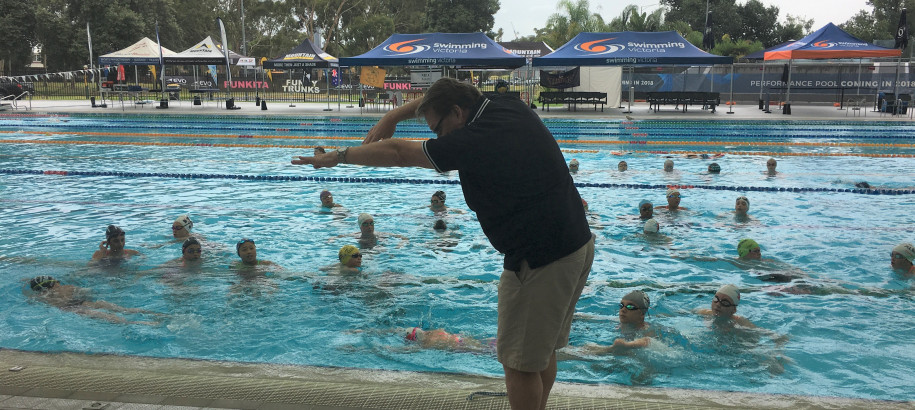 Coaching is a great way to harness your passion for swimming and be actively involved. It is not only exciting and self-satisfying but you can have a positive influence on people's lifelong involvement in swimming. Coaching is a rewarding job at all levels of swimming as you are responsible for helping people improve and develop their swimming, you can pass on your own experiences and watch people progress through the different pathways of swimming.
All swimming coaches must be accredited. 
 Swimming Australia and State Swimming Associations require coaches to hold valid accreditation to:
Gain access to the pool deck and warm up areas at their sanctioned swim meets
Be considered for selection as a representative coach
Have the opportunity to present other coaching courses
Ensure that a code of behaviour has been signed
Acknowledge that a working with children check has been sighted
Enable action to be taken when allegations of a breach of the codes of behaviour are made
The Australian Swimming Coaches and Teachers Association (ASCTA), is the peak body for swimming Coaches and Teachers in Australia. ASCTA is dedicated to developing world leading practises in the education, accreditation, professional development and on-going support for swimming Coaches and swimming and water safety Teachers.

Visit the ASCTA Website for further information.

asctaVIC is the Victorian branch of ASCTA. More information can be found here. 

The 2020 Victorian Team will travel to Canberra on Tuesday 29 September 2020 to compete in the 2020 State Teams Championships from September 30 - October 2, 2020. Coaches wishing to be considered for the Team will need to complete and return an Coach Availability Form.

2020 State Teams Coach Selection & Availability Form - available shortly

Swimming Victoria (SV), Swimming NSW & Swimming Tasmania partnered together to provide a new and exciting opportunity for athletes and coaches. The 2019 tri-meet was held in Wagga, NSW from 8-12 July 2019. The weeklong trip involved 3 days of training followed by 2 days of competition with athletes and coaches splitting into groups to train and compete in a teams-based competition. 

More information regarding 2020 opportunities will be coming shortly.