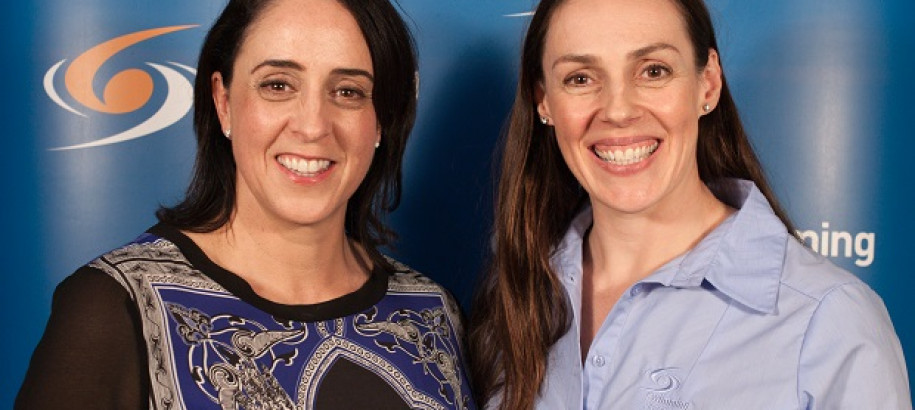 The Board of Directors consists of nine members of the Swimming Victoria community and seek to represent the views of our stakeholders.
Swimming Victoria is now calling for Nominations for 3 elected Director Positions. Nominations Close 5pm Friday 5 October 2018
Please select the links below for further information and nomination details.
Call for Nominations for Election of Director
SV Director Position Description
Courtney is part of a swimming-obsessed family that includes swimmers, coaches, and swim teachers. Courtney competed as a national level swimmer for the Traralgon Swimming Club during her teen years and, after moving to Melbourne for university, swam at a number of Australian University Games. She remains a passionate country swimmer and continues to swim for Traralgon each year at the Victorian Country Championships.

Professionally, Courtney has tertiary qualifications in both Law and Arts (Media and Communications) and is a Senior Associate in the employment practice of law firm Herbert Smith Freehills.

She is committed to ongoing education and excellence in governance, and in December 2016 she graduated from the Company Directors Course at the Australian Institute of Company Directors. In 2017 Courtney began sitting as an Integrity Commissioner on Cricket Victoria's disciplinary panels (including as chair).

Since joining the board in 2014, Courtney has brought fresh perspectives to the Board, and used her insight into both country and metro swimming to support the positive development of our great sport. Her greatest hope is for as many people as possible to experience the unique learning, friendships and traditions that swimming can provide.

Lawrie began his swimming involvement at Leisure City Dolphins with his two daughters. He has always held the view that you should not be critical unless you are prepared to do the job yourself. He has served at Club committee, District President and State President 2001 -2006.  

He was on the Swimming Australia Board from 2006-2012, during this time he was Foundation Chair and a Finance committees member.

An active Technical Official throughout at District, State and National level and currently an international FINA Referee on list 17. He attended as Australian delegate to FINA congresses and the Secretary of the Oceania Swimming Association which is the FINA continental body covering Australia. 

His focus is to ensure that we are inclusive of all the parts that make up swimming and he believes that our clubs and districts are important to delivery of the of future Australian National Team members but also for an active involvement in our sport.

The task is to include everyone to provide the best outcome and opportunities for our membership.

He looks forward to working with fellow Board members and staff with new ideas, whilst providing the knowledge not to repeat errors.

He is always happy to take comments/questions, positive or negative, and acknowledges that he is elected to represent the members that are Swimming Victoria.

Lawrie is an elected Director of Swimming Victoria.

Rod is a Victorian Olympian who represented Australia in the 1992 Olympics, and the 1986, 1990 and 1994 Commonwealth Games, achieving a Silver Medal in the 200m Breaststroke in 1990. Rod's professional career spans over 20 years in the Telecommunication & Data sector, and includes program and project management, leading large scale transformational change, and providing strong leadership and considering tough ethical decisions.

Rod wants to help swimming in Victoria become the activity of choice, not just at the elite level but at all levels, because of the great mental and physical benefits derived from swimming at all ages. He is looking forward to the challenge the role provides, and helping to deliver the strategic plans for our members and the sport.

Rod is an appointed Director of Swimming Victoria

David is a father of two who have been actively involved in swimming since an early age. David's son is a National Champion at 16 and has ambitions to be involved in the sport for the long term future. Throughout the journey so far, David has realised how important parent involvement is to swimming as a sport at all levels, and also the vital role of Swimming Victoria.

David has been working in the Transport Industry for the last 30 years. He has a vast knowledge and skill base in all aspects of the industry and business in general. Throughout his career he has had experience in various areas with strong financial and people organisational focus the key ingredients. 

David has also been a member of various industry groups and Government advisory organisations. David brings to the Board a business edge coupled with a love for the sport and a personal insight through his son. He will serve his role with energy, enthusiasm and integrity.

David is an elected Director of Swimming Victoria

Heather became involved with swimming through her family. Her children learnt to swim at Surrey Park. In 1994 when her daughter progressed into the Club, there was a need for parent volunteers and she became one.

Since that time, Heather has been actively involved in swimming at Club, District and State level in both management and administrative roles. She has been a member of Swimming Victoria's Technical and Competitions Committees and held the position of SV's Championship Officer from 2010 to 2015. She continues to work regularly as a technical official. Her commitment has been recognised through various awards including Swimming Victoria Administrator of the Year (2003), the Bill Slade Award (2016). She holds a Swimming Victoria Meritorious Service Award.

Heather joined the Board in October 2015. She brings to the Board a comprehensive understanding of the sport of swimming at all levels and from different perspectives.

Heather appreciates the significance of enjoyment and participation at Club and District levels as stepping stones to both achieving success at State and National level competition, and also for creating a community of "life-time" swimmers. Her vision is to provide a supportive and inclusive environment to enable all members of the Swimming Victoria community to achieve their swimming related goals.

Heather is an elected Director of Swimming Victoria

Shayne Reese OAM is a local Ballarat identity that has grown into one of Australia's most exciting and consistent female performers, having been a member on the Australian Swimming Team since Athens Olympics 2004. Shayne is an articulate and professional athlete that has proven her great ability to perform on the world stage. She is an Olympic, World and Commonwealth Champion and an Olympic, World and Commonwealth record holder. Shayne's dedication and great character has been evident with her numerous awards and community spirit and has become a great role model for the Ballarat Community.

Retiring from professional sport in 2010, Shayne returned home to Ballarat with husband Luke, also a professional swimmer, to start their own "Learn to Swim" business, Shayne Reese Swimming. Now seven years running, the purpose-built facility provides over 2000 lessons a week to infant, preschool and school age children across Ballarat and surrounding areas. The centre provides swimming programs for Primary schools as well running multiple sessions for children that have completed all levels in the learn to swim program and have progressed into Mini Squad level.

Shayne now dedicates her life to educating students, staff and parents the fundamentals of swimming and water safety.

Shayne is an appointed Director of Swimming Victoria

Andrew is a highly experienced commercial lawyer and sports lawyer, as well as being a nationally accredited mediator.

Andrew brings to the board a combination of forty years' experience as a lawyer with an emphasis on business and sports law, numerous previous other board positions, and a deep interest in all things sport. 

He is currently a director of YMCA Victoria, a tribunal chair for Basketball Victoria and a legal consultant to the Southern Football Netball League. 

His history includes roles as president of the Law Institute of Victoria, as a director of Netball Australia and many years providing legal advice to the AFL Players' Association and North Melbourne Kangaroos. 

His love of swimming has seen him complete well over one hundred open water swims. He describes himself as 'a slow swimmer who rapidly continues to lose even more speed'.

Andrew is filling a casual vacancy of an elected Director position until the SV AGM 2019

Susan has a passion and interest in the development of Victorian swimming, as a former national swimmer and a former company director at a successful Victorian learn to swim business.

Susan has more than 35 years experience in general and executive management, with experience in risk management, policy and planning, team leadership and stakeholder engagement. 

Susan also has experience on Boards and Governance Committees and has also been a Federal Government appointed member of international and domestic strategy committees and planning panels. Susan is also currently on the Board of Aspergers Victoria.

Susan is an elected Director of Swimming Victoria

Duncan has been involved in the sport of swimming for many years,  and has contributed to the organisation through being the chair of the Finance and Risk Management Committee since 2013.  Having grown up in the world of professional sport, Duncan realises the value it can create, and the challenges that need to be addressed, and how to move the organisation and the sport forward.

Duncan's career has seen him spend a large portion of his working life with the global business MARS, he is a commercially focussed Chief Financial Officer , has experience across multiple geographies, and segments within the Mars Corporation, and has a passion for delivering results and developing talent.  Outside of work Duncan enjoys spending time with his family and his 4 children, which more often than not centres around his love of cooking.

Having spent a considerable time in regional Victoria due to MARS, Duncan has seen the value that swimming brings to communities, families and individuals throughout the entire State. With Swimming Victoria entering a new phase of development with a focus on improving our service and value to members and growing our relevance to the broader swimming community Duncan's professional skills and swimming insights are a timely addition to the Swimming Victoria Board.

Duncan is an elected Director of Swimming Victoria