14 April 2021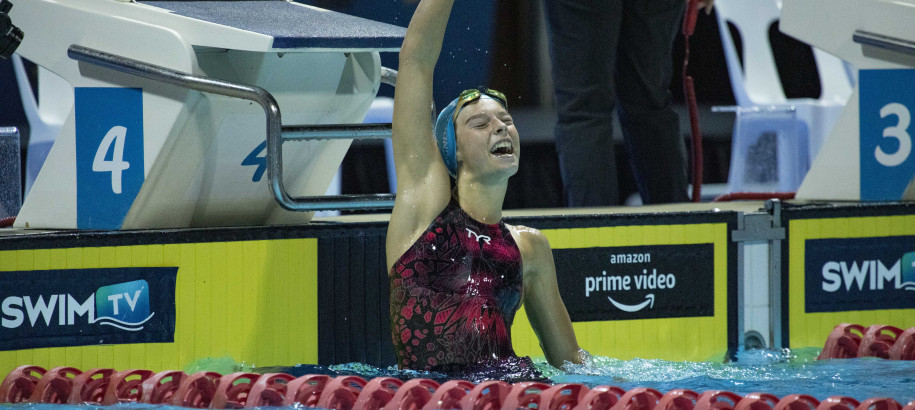 The next wave of swimming stars put on a show at the recent 2021 Australian Age Swimming Championships at the Gold Coast Aquatic Centre.
We saw some impressive results from our Victorian swimmers, including 4 Gold, 12 Silver and 14 Bronze medals, a new Australian Age Record and a handful of Victorian Age Records, it was a promising glimpse into the future of Victorian swimming.
Here are some of the highlights…
Geelong's Hayley Mackinder (coached by Sam Ashby) rewrote the record books in the Girls 13 Years 100m Breaststroke, clocking a time of 1:11.66 to wipe out a 26 year old Australian Age Record, break the Victorian Age Record and go on to win the Gold.
Speaking of records, William Petric (coached by Nick Veliades) broke three Victorian Age Records with his victories in the Boys 16 Years 200m (2:03.96) and 400m (4:23.38) Individual Medley and Boys 16 Years 200m Breaststroke (2:13.96). The Nunawading swimmer also claimed Silver in the 100m Breaststroke (1:02.76).  
MLC Aquatic's Alannah Torrance (coached by Jayden Brian) was strong in the Girls 14 Year Old Breaststroke events. She narrowly missed the top spot with her time of 1:13.74 in the 100m Breaststroke and secured Silver in the 200m Breaststroke, stopping the clock at 2:41.18.
It couldn't have been much closer for Ed Speller (coached by Craig Jackson) in the Boys 17 Years 50m Freestyle. He went head to head with Rackley's Isaac Cooper, madly dashing to the finish line, Cooper touched in 22.86, only three one hundredths of a second in front of Speller who hit the wall at 22.89. The Melbourne Vicentre swimmer also took home a Bronze in the Boys 17 Years 100m Freestyle with his time 50.43.
A change to the program this year saw the multi-class age and multi class open Australian Championships staged at the beginning of the event. Our Victorian athletes brought home 5 Gold, 6 Silver and 1 Bronze medal across the two days of MC competition.
Col Pearse was a standout performer. The Kew swimmer, coached by Matt King, had victories in the Boys' 17-18 Years 100m Freestyle (56.30), Butterfly (58.08) and Breaststroke (1:17.51), the Boys 17-18 Years 50m Butterfly (26.64) and the Men's 100m Butterfly (58.67).  
In the female MC events, Northcote's Imogen Nolan (coached by Ako Kusafuka) made a name for herself in the Girls 11-14 Years 50m Breaststroke, taking home the Gold with her time of 36.97. She also claimed 2 Silver medals in the 100m Breaststroke (1:21.99) and 100m Butterfly (1:16.72).    
For full results click here.