21 January 2020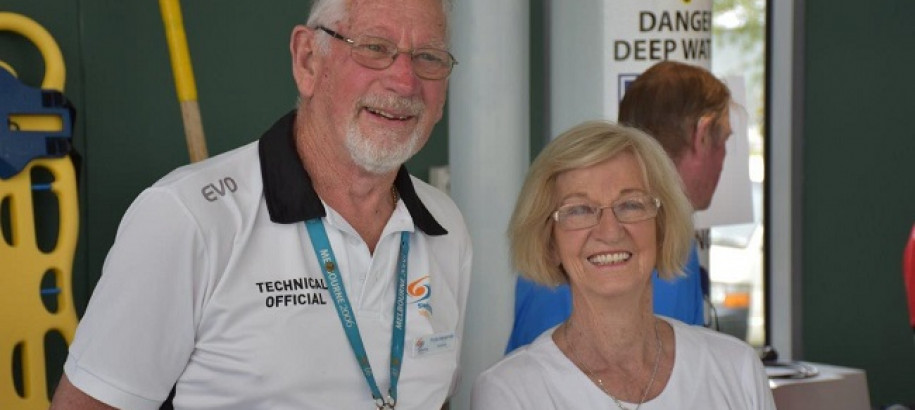 In 2019 we said farewell to some long-standing Technical Officials who announced their retirement from officiating. Swimming Victoria would like to thank the following officials for their contribution to Victorian swimming:
Robin Alexander
Robin started as a Timekeeper when his children began swimming in the 1980's. Since then he has done everything from judging, marshalling and recording before eventually becoming a State Referee. Robin was President of Midlands District Amateur Swimming Association (MDASA) from 1993-2005 and then again from 2009-2014.  He has won numerous awards, including:
Swimming Victoria 20 and 30 year Service Awards

Australian Sports Medal

Swimming Victoria Meritorious Award 2001

Herb Jeffrey Award 2002

Swimming Victoria Official of the Year 2003

Swimming Victoria Life Membership 2011
Robin was a Swimming Victoria Board member and is a Life Member of Ballarat GCO Swimming Club, MDASA and Swimming Victoria.
Bev Horwood
Bev's involvement in swimming began in 1985 when her daughter joined Ballarat GCO Swimming Club. She has volunteered a lot of her time to swimming in Ballarat over the years and has received the following awards:
20 years' Service Award from GCO Swimming Club

Swimming Victoria 20 and 30 years' Service Awards

Swimming Victoria Administrator of the Year 2007/08

National Volunteer of the Decade for Sport 2011

Denis Bateman Award for 40 years of volunteering in Ballarat
Bev was Publicity Officer, Chief Timekeeper and District Secretary for MDASA from 1990-2009 and again from 2010-2016.
She is a Life Member of both Ballarat GCO Swimming Club and MDASA.
Sue and Ian Dyer
Sue and Ian's involvement in swimming started over 36 years ago at Sunshine Swimming Club, where they held a number of positions and became Life Members.
It didn't take long for Ian put his hand up to help out at Metro West District, where his roles included Team Manager, Treasurer and President.
Sue was a big support to Ian at Metro West, and she took on the roles of Team Manager, Secretary and Assistant Secretary. Both Ian and Sue are Life Members of Metro West District.
During the late 90s, Sue was Championship Officer of Swimming Victoria. She also won the Bill Slade Trophy for the Victorian Technical Official of the Year in 2016.
Thank you to Robin, Bev, Ian and Sue. Your contribution to the sport has been outstanding and you will certainly be missed on pool deck. We wish you all the very best!