07 June 2019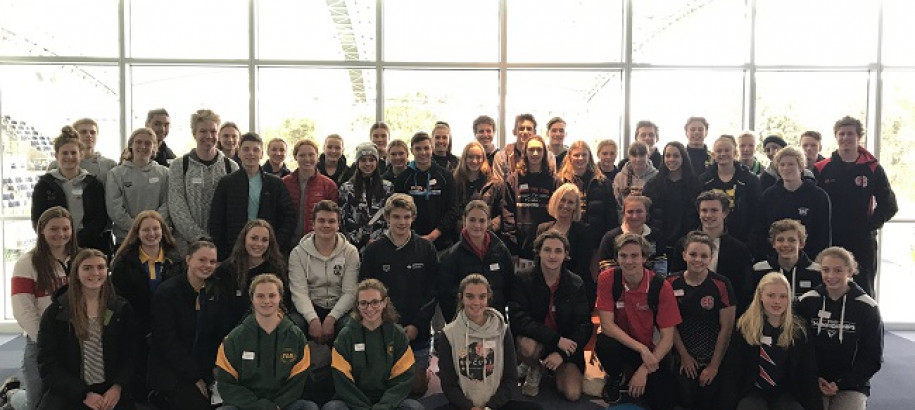 It's not often that we have a chance to get together, away from the pool and spend some time reflecting on the season passed, networking with peers, improving our skills and planning for the future. That's why the annual Club Conference and Developing Young Leaders Conference are such important fixtures on the Swimming Victoria calendar.
On Sunday 2 June, 39 club representatives and volunteers and 55 club captains and emerging leaders came together to take part in the conferences which ran concurrently at the Melbourne Sports and Aquatic Centre (MSAC).
Keynote speaker, Don Elgin started the day with his inspiring speech "Building Great Humans". This theme continued in the first workshop of the Club Conference which was also facilitated by the three-time Paralympian.  The video of his keynote presentation will be posted soon.
It was then time for something a little different, with Kathy Tessier from Active Approach guiding the attendees through a "speed dating" session. The session gave the club representatives a rare opportunity to network, ask questions and share ideas with their peers.
In the afternoon the Club Conference split into two streams. Gavin Deller presented 'Having a sensational committee' and Swimming Victoria's General Manager, Tim Frampton presented 'The 'C' issue – compliance made easy!' Both sessions were very interactive and well received by the attendees. One attendee at many Club Conferences over the years described the day as 'the best conference she has ever attended'.
Copies of slide presentations and other notes will be sent to all the attendees shortly.
For the young leaders it was an opportunity to gain some personal and professional development. This year the focus of the day was 'Confident Communication for Leaders', facilitated by Carol Fox.
For nearly three decades, Carol has worked with thousands of people in her roles as an Executive Coach, University Lecturer, Conference Speaker and Facilitator in the Personal & Professional Development Industry collaborating with all levels of sport, government, not for profit and corporate clients.
Having run this workshop at our 2015 conference, Carol said it was great to be back again helping a new generation of leaders understand the importance of communication.
"I would just like to say a big thank you to everyone who contributed to the running of the program. It is definitely such an amazing opportunity and I have learnt so much from it!" said one of the participants.
Thank you to all the athletes and club representatives for their fantastic support of the conferences. We look forward to seeing some new skills put to use both in and out of the pool.