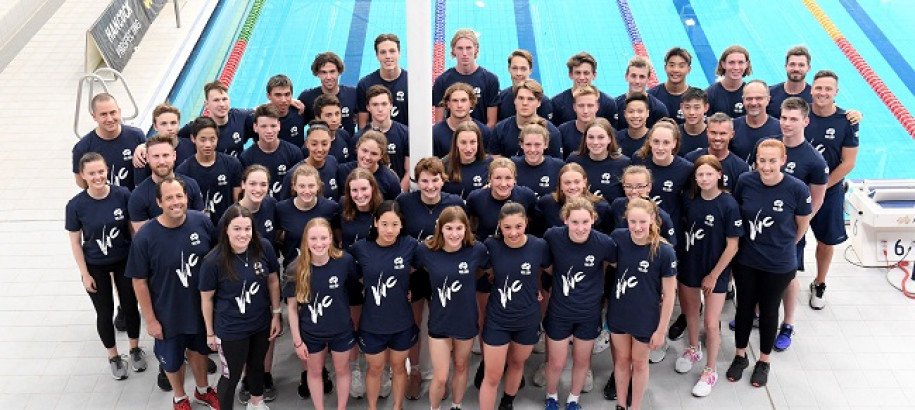 The Swimming Victoria Performance Pathways Program underpins Swimming
Australia (SAL) and the Victorian Institute of Sport (VIS) to provide an integrated pathway for athlete
and coach development for success within the State, and on the National & International stage.
As part of the annual review process, the pathway has been streamlined and now provides clearer
pathway progression for open water and multi-class athletes. An underpinning District Development
Program has also been introduced to support a greater number of athletes and coaches across the
State
Please note that a revised 2020 Performance Pathways Program Selection Criteria will be available as soon as possible after we navigate through this current COVID-19 climate. 
With the current COVID-19 restrictions, the Performance Pathways will be delivered online for the foreseeable future which will allow athletes and coaches to participate from home. All athletes will be invited to join the Performance Pathways Workplace Page, a platform (very similar to Facebook) that will be used to stay in touch with athletes within the Performance Program.
Over the past few seasons Swimming Victoria has worked hard with athletes to create a positive culture that promotes success and a sense of team and community within our programs. This has been a result of creating multiple touchpoints for athletes and coaches to come together for workshops and training throughout the season. We hope to continue this culture as we work our way through this isolation period together.
Over a period of 6 weeks, athletes will have the opportunity to participate in online sessions with industry experts on topics such as dryland training, strength and conditioning, wellbeing etc.
2020 Performance Pathways Program Squads
2020 Performance Pathways Program Squads - updated 6 May 2020
The Victorian State Team competes at the annual State Teams Championships in Canberra.

The 2020  Victorian Team will travel to Canberra on Tuesday 29th September 2020 to compete in the 2020 State Teams Championships from September 30 - October 2, 2020. 

Athletes and Coaches wishing to be considered for the Team will need to complete and return an Availability form (available shortly)

2020 State Teams Athlete Selection Criteria

2020 State Teams Athlete Availability Form (due August 30 2020)

2020 State Teams Coach Selection & Availability Form 

 

To prepare Australia's next generation of swimmers for senior performance excellence, SAL, through the State Technical Directors has thoroughly reviewed the Performance Pathway program. The State and National Talent Program now will be known as Swimming Australia's 'Flippers' program. The program will feature a combination of activities delivered by each State and Nationally with the aim of preparing identified athletes to successfully transition to the pinnacle of swimming in Australia - the Dolphins Swim Team.etes, while also positively impacting the daily training environment for all swimmers within the home program.

These programs are managed by SAL's Performance Pathway staff and the relevant State Swimming Associations (SSA's). Primarily, the Flippers programs are funded by the Australian Institute of Sport (AIS), State Swimming Associations and will include a small financial contribution from each participating athlete.

The Performance Pathway programs will assist in nurturing and developing your sporting potential by focusing on the three E's - education, environments and experience.

Squad Lists 

 

Athletes are identified from performances from the recent Australian Age Championships. Athletes were selected if they placed within the top 10 Australians in an event. 

As part of the Performance program, athletes and their coaches are invited to multiple activities which over the course of the next 12 months. The focus of these activities is to bring the top open water athletes and coaches together in a high performance training environment to share and develop their own skills and knowledge.

Squad List

 

As part of the Country program, athletes and their coaches are invited to an overnight high performance camp (accommodation and meals provided). The focus of this camp is to bring the top country athletes and coaches together in a high performance training environment to share and develop their own skills and knowledge.

Squad List

Athletes are selected into the Multi-Class Squad through achieving a pre-determined Multi-Class Point Score dependent on their personal classification. Athletes and their coaches will be invited to multiple workshops across the season which aim to educate them on the Para Pathway, as well as identifying the athletes strengths and weaknesses through conducting various pool testing protocols.

Squad List

Athletes are selected into the Open Water Squad through performances at the National Open Water Championships. Athletes and their coaches will be invited to various trainings and clinics throughout the season, with a focus on preparing athletes for success at a National level. Selected athletes will also be given the opportunity to represent Victoria and travel to Queensland to race at their State Open Water Championships as part of a touring squad.

 

Squad Lists

 

The Junior Talent Squad consists of athletes aged 12-13 selected through performances at both the State Long and Short Course Championships. Athletes and their coaches are invited to a number of training sessions throughout the season. The major focus of the Junior Talent Squad is to continue to develop the athletes skills, and in particular encourage athletes to train all strokes and progress as Individual Medley swimmers.

Activities

TBC - due to the current COVID-19 climate

Squad List

Swimming Victoria in conjunction with Swimming Australia coordinates the Bio Island Junior Excellence Program (JX). The JX program exists to encourage swimmers to strive to achieve set qualifying times throughout the season.

The Bio Island Australian Junior Excellence Program (JX), recognises rewards and encourages junior swimmers who, through their development of aquatic skills and fitness, achieve a high standard of swimming excellence.

For further information, please visit Swimming Australia's website by clicking here. 

 

Swimming Victoria provide interstate and international racing experience for selected athletes.

International Tour

All International Tours for 2020 have been cancelled.

These opportunities aim to provide invaluable travel and race experience for athletes and coaches to perform on the world stage as we support their continued development and preparation into Paris 2024.

Open Water Tour

TBC

The District Development Program underpins our SV Performance Pathways Program to provide an integrated pathway for athlete and coach development.  

The purpose of the program is to develop the skills required for success at a State and National level and provide a key entry point into the performance pathway, which is aligned to national standards and benchmarks.

The aim of the District Development Program is to:

Develop the skills of State level swimmers into the skills of National Age level swimmers;
Create more opportunities for our members, while opening the pathway to a broader base of swimmers and coaches.
Expose swimmers and coaches to new opportunities and experiences to further their development; and
Create an upward pressure for success by influencing development at a District level.

While a key focus of the program is to deliver pool based sessions, Swimming Victoria is committed to developing the whole person. It is for this reason that the education workshops are a core component and align to SV's overall Education Framework.

Districts who are interested in hosting a Development Day should contact jennifer.blackman@vic.swimming.org.au